SUNDAY, AUGUST 9
Good listeners are a rare breed in our society today. We drift more towards a self-focus and in our quest to get to the next thing, listening with quality to another drifts farther down in our to do lists. It is equally rare to find people who listen well to and for God. Paul speaks of the power and priority of preaching but often dismissed in the familiar text is the key spiritual priority of listening when we are in the pews and in other spiritual centers. The passage from Deuteronomy offers an even more stark reminder that it is not enough to simply be present. Showing up is not enough. If we do not spiritually engage, we will miss out as will others around us in our networks and spheres of influence.
AUGUST 9 SERMON "On Being a Good Listener" | SCRIPTURE Deuteronomy 11:18-21, Romans 10:5-17 | WEEKLY GUIDE  August 3-9
COMING UP | SUNDAY, AUGUST 16

This passage is a tough one. There are multiple interpretations but one thing is clear. This Canaanite woman had a need and she wasn't quitting until Jesus responded. Her persistence combined with the challenge from Jesus brought out the best in her. The sermon will touch on the role of persistence in our prayer life and spiritual walk. This story teaches us that when we stay in the conversation with Jesus, when we don't let go, like Jacob, in the end we find the coveted blessing.
AUGUST 16 SERMON "The Power of Persistence" | SCRIPTURE Matthew 15:21-28 | WEEKLY GUIDE  August 10-16
PREVIOUS WORSHIP SERVICES

Watch and listen to services from previous weeks at Reveille. 
"Learning the Secret"
"The Wonder and the Power of the Kingdom of God"
"Navigating Our Culture of Wheat and Weeds"
"Good Soil Doesn't Just Happen"
"Filled to the Brim with Life and Hope"
"Gratitude in the Midst of Adversity"
Laity Sunday | "Who's at Your Gate?"
Farewell Sermon | "Transitions: Because of the Wonderful Things He Does"
Trinity Sunday | "Transitions: More Than This"
Pentecost Sunday | "Transitions: A Tale of Two Churches"
Ascension Sunday | "Transitions: Protect Them in Your Name"
Sixth Sunday of Easter | "Transitions: The End and the Beginning"
Fifth Sunday of Easter | "Transitions: Redefining Motherhood"
Fourth Sunday of Easter | "The Thief and Abundant Life"
Third Sunday of Easter | "Real Presence"
Second Sunday of Easter | "A New Perspective"
Join us as we raise our voices in shouts of "Christ is risen! Christ is risen indeed! Alleluia!"
This service combines Holy Week art and readings with beautiful sacred music.
Meditation with Associate Pastor Stephen Coleman and music offered by CrossPoint and Tom Bailey.
Palm Sunday | "Surprised by Joy: The Cruelest Month"
Fifth Sunday in Lent | "Surprised by Joy: The Waiting"
Fourth Sunday in Lent | "Surprised by Joy: The Next Right Thing"
Third Sunday in Lent | "Surprised by Joy: The Woman at the Well"
OPPORTUNITIES FOR YOU TO SERVE IN WORSHIP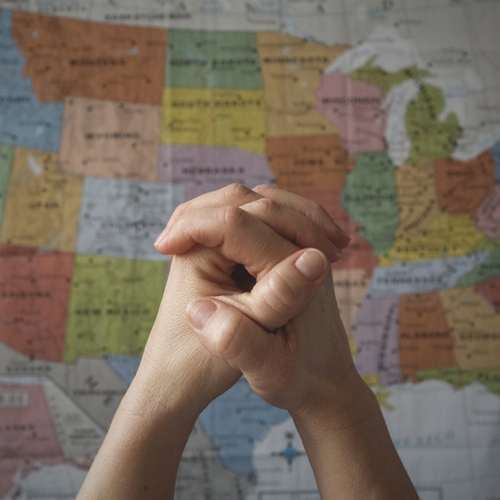 Share your prayers to be read aloud as part of our service. Prayers will be edited for confidentiality. Submit by 9:00 am Tuesday to be included in that week's service.