SWANSBORO COMMUNITY MINISTRIES
WHAT IS SWANSBORO COMMUNITY MINISTRIES?
The Swansboro community is located on Richmond's south side and over the course of several years Reveille has committed to building strong, vital partnerships in the community. Reveille works with Swansboro Elementary School, Koinonia Christian Church, and Love Center of Unity Full Gospel Church International. These partnerships have resulted in a number of ministry programs.
REVEILLE RENEWS PARTNERSHIP WITH COMMUNITIES IN SCHOOL
Full-time Site Coordinator to Continue at Swansboro Elementary School
At its March meeting, Reveille's Church Council approved funds for the extension of the partnership between Reveille and Communities in Schools -Richmond (CIS), to continue our support enabling a full-time CIS site coordinator at Swansboro Elementary School (SES) until June 30, 2024. Reveille will provide $40,000 per year for three additional years from the $1 million gift. This continued support for Swansboro ministries is in line with Reveille's goal to engage our congregation to share our faith while making a difference in God's world.
CIS works in partnership with Richmond public schools to promote student success by securing and coordinating resources that target barriers to student achievement. CIS coordinators are placed in schools to identify and address the most critical needs of students and families with specific case management. A full-time CIS coordinator carries a maximum case load of 50 students and their families. Prior to Reveille's financial partnership, the CIS coordinator position at SES was half-time, so Reveille's support has enabled services for twice as many students. In addition, the CIS coordinator serves as a liaison to Reveille members who volunteer at the school, and congregational engagement has increased substantially over the last several years since initiation of our partnership with CIS.
The CIS site coordinator at SES is Ellen Ficker, who continues excellent service in the position. She works alongside Debora Holliday, site coordinator for the after-school program at SES, where Reveille conducts "Marvelous Mondays" weekly during the school year.
Good things are happening at SES with the full-time CIS coordinator and Reveille working together. More children are being helped to achieve their potential. Although many factors contribute, SOL test scores have substantially improved at SES from 2017 to 2019. With the CIS coordinator smoothing the way at SES, there are more Reveille volunteers, including children and youth, with increased opportunities for service and ministry. During the current COVID-19 crisis, when schools have been closed, the CIS coordinator has continued to work with students and families to maintain weekly contact, offering community and educational resources and Richmond Public Schools information; to deliver food, books, and school and cleaning supplies; to provide targeted support for all Spanish-speaking families, and to provide opportunities for volunteers to support Swansboro students. Click here to read more about the benefits of the full-time coordinator for students, families, and Reveille's mission and service at the school.
With the CIS coordinator as our liaison and so many at Reveille offering their gifts and graces in so many ways, Reveille's continued funding will help to keep the momentum going to help students at SES achieve their potential, and to help Reveille members grow in ministry and service with others in our community as we work together to transform the world for Jesus Christ.
Reveille's involvement in the Swansboro community extends beyond the elementary school. Over the past seven years, Reveille has built strong relationships with the members of our two partner churches in the community, Koinonia Christian Church and Love Center of Unity. In partnership with these churches, the school, and CIS, we are building relationships and helping to change lives. This vibrant outreach program demonstrates Reveille's commitment to service in a way that helps attract new members to Reveille and engage them in transformative ministry.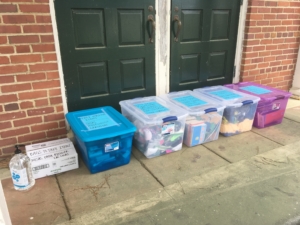 WAYS YOU CAN HELP SWANSBORO FAMILIES:
Help with school lunch distribution each week for Swansboro Elementary families. To sign up, visit https://www.handsonrva.org/rps and click on Community Based Meal Delivery-South Side (George Wythe). The Swansboro stop is on route #3, but you can sign up for any route!
Make bookmarks to go with donated books for RPS students. Decorate your bookmark with notes like "Always do your best!" or "You're awesome!" or "Reading is fun!" You can choose the size, color, and style of your design. Consider adding beads or stickers to make your bookmark all the more special! On the back of the bookmark, small at the bottom, add your first name and Micah 2020. Example: From Pam, Micah 2020. Click here for some great ideas. Drop off your bookmark(s) in an envelop marked with your name, Reveille UMC, your email address, and "Micah" at Richmond Hill, 2209 E Grace St., Richmond. Slip it through the mail slot at the red brick chapel building by May 11.
Amazon Wishlist: Ellen Ficker, site coordinator for Communities in Schools at Swansboro Elementary, created an Amazon wish list where donors can purchase workbooks, books and other educational materials for students. Ellen will distribute items to families. To view the list, click here for Swansboro Elementary's Amazon wishlist and ship items to Ellen Ficker, 3003 Moss Side Ave, Richmond VA 23222. These items will go to students who do not have access to educational resources online.
Book Donations: There is a bin of books on the front steps of the school so that parents can come pick them up as needed. Volunteers who would like to donate books to this "library" can drop them off at the Communities in Schools office on Tuesdays, 10:00 am-noon. The office is located at 2922 West Marshall Street Suite 2, Richmond VA 23230. Drop the books in the purple bin labeled "Books for Swansboro." Ellen will pick up the books every other week, sanitize them, and take them to the school.
Letter/Cards to Students: Mentors who would like to send letters or cards to their mentees can send them to Ellen Ficker, 3003 Moss Side Ave, Richmond, VA 23222. She will review cards and mail them to students.
RECENT NEWS
Reveille Volunteers Distribute Supplies to Families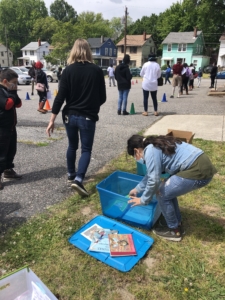 Wendy Malamphy, a Reveille member and Communities in Schools volunteer, has been helping Swansboro's CIS Coordinator, Ellen Ficker, on Tuesdays distribute essential supplies such as diapers, baby wipes, toilet paper, paper towels, and cleaning supplies.  The school bus comes every day at 11:30 am to distribute the pre-packaged school breakfasts and lunches. On a recent especially busy day, it was Swansboro Elementary's turn to distribute Chromebooks to students.  Swansboro staff were stationed outside making sure that parents were standing in line next to the cones that were spaced apart for social distancing.  Ellen is fluent in Spanish which is a strong asset for communicating with many families. Ellen placed Wendy in charge of the diapers and other essential items so that she could help with Chromebook distribution.  Wendy did know her numbers in Spanish which helped in getting the right diaper size to parents!  Wendy also helped encourage students to pick a book from the book boxes that had been generously donated.   As a former teacher at Swansboro, Wendy felt is was so wonderful to see former students and so heartbreaking not to be able to hug them!  – Wendy Malamphy
$500 Donated for Books at Swansboro Elementary
On March 2, 2020, Read Across America Day at Swansboro Elementary School included the distribution of books to students to take home to keep and read. In the fall of 2018, Reveille member Vickey Verwey convinced her sorority sisters in the Richmond Alumnae Club of Pi Beta Phi to apply for a book grant for the school from the Pi Beta Phi Foundation and books were provided to students. The Club wanted to continue to help Swansboro students. This year they donated $500 for the school librarian to purchase two books for each child. Vickey and six other club members also enjoyed reading at Swansboro for Read Across America Day.
DRIVE CAMPERS TO WESTVIEW ON THE JAMES
One of the reasons I like spring is because it is camp registration time and I like Westview on the James. Twenty-five students at Swansboro will be selected to attend Westview on the James June 14-19, 2020, thanks to a contribution from you here at Reveille. This is an unbelievable week for these children as a first camping experience. If they have been to Westview before, they will seek out Ellen Ficker, the CIS representative, on the first day of school to ask about registering for camp a second time. Last summer on the way to camp, just past Crozier one of the boys in my car said, "Is this the country? Because I want to live out here!"  Arriving at Westview, the Swansboro campers are scattered among hogans according to age and gender. For several summers I have heard on closing night that each hogan was a great community playing, eating, working, and praying together. Counselors and campers clearly bond with one another. Westview is a special family of all God's children.
To help with this ministry, please consider driving or riding with campers out to and home from Westview. For more information, please contact Linda Gill or Claire Kaugars.
CONSIDER VOLUNTEERING NEXT SCHOOL YEAR
Check out this year's volunteer brochure to learn more about ways you can support the school this fall.
Help in Swansboro Elementary Classrooms
Reveille is recruiting helpers each school year to serve at Swansboro Elementary School in specific areas identified by the school leadership and teachers. Ellen Ficker, the Community in Schools site coordinator for Swansboro Elementary, is Reveille's primary contact to facilitate arrangements. Opportunities are in the following areas:
After-school Volunteer
Join Reveille's team in partnership with Koinonia Christian Church after school on Mondays, 4:30-6:00 pm, to conduct art projects, games, dance, and other recreation. Volunteers are welcome to join Reveille's Marvelous Mondays team, led by Sheelagh Davis, to assist students in the after-school program with arts, crafts, games, dance, homework, and other enrichment activities. To get involved, contact Sheelagh Davis.
Mentors
The volunteer is matched with one or two students with whom they meet once a week for 45 minutes to an hour during class time or around the recess/lunch block. The volunteer helps the student with specific subject areas identified by the teacher, usually math or reading, enjoys recreation like tossing a frisbee or football, and spending one-on-one time with a child. Volunteers can choose whether they prefer to work with one or two students at a time. Current mentors may continue with their student-mentee relationship. Frequency: Weekly
Organization Helper
Reveille and others provide clothes and supplies during the year. Help is needed to keep them organized for quick and easy distribution and to keep an adequate supply throughout the year. The closet is located in the school administrative area. Frequency: Monthly
Food Helper
Parental engagement breakfasts are new for this coming year and dates will be scheduled this fall. Volunteers are needed to provide food for the breakfast. A sign up form will be distributed in advance. Ellen Ficker will provide details about the number of attendees (approximately six – 12 parents), amounts and types of food, time, and room location. Frequency: Monthly
Tours
Come tour Swansboro Elementary to learn more about the school and its children.
Other Programs
Reveille supports Swansboro Elementary by providing school supplies, Thanksgiving and Christmas assistance, the Boys in Blue kickoff and closing, Read Across America Day, Teacher Appreciation Week, and Westview on the James camperships.
After School Scholarships
Scholarships cover the cost of the after school program. The cost per student is $120 per year or $60 per semester and will be needed in early September. Students will be selected by the site supervisor in the fall. This program is limited to a maximum of 36 elementary school students.
For more information, contact:
Reveille's Swansboro Elementary Co-Champions
Carol Hampton, carolhampton1205@gmail.com
Wendy Malamphy, wmalamphy@hotmail.com
JOINT PARTNER CHURCH COMMITTEES
Five committees were formed with members from Reveille, Koinonia Christian Church and Love Center of Unity:
Worship – plans one or two joint worship services each year
Joint Studies – plans an annual study series and other events
Fellowship – plans two joint fellowship events each year
Transportation Taskforce – advocates for improved public transportation
Prayer – creates prayer partners between the churches and holds several prayer events throughout the year
For more information about getting involved with the committees, please contact Jill Gaynor.
WESTVIEW ON THE JAMES CAMPERSHIPS
Each year, Reveille helps send 25 Swansboro Elementary School students to summer camp for a week at Westview on the James. Children are selected by their school to receive a campership based on financial need. Reveille volunteers help children prepare for the experience and provide transportation to and from camp. Help also is needed in meeting with the families to complete paperwork and shop for camp supplies. See the story above for more information.